---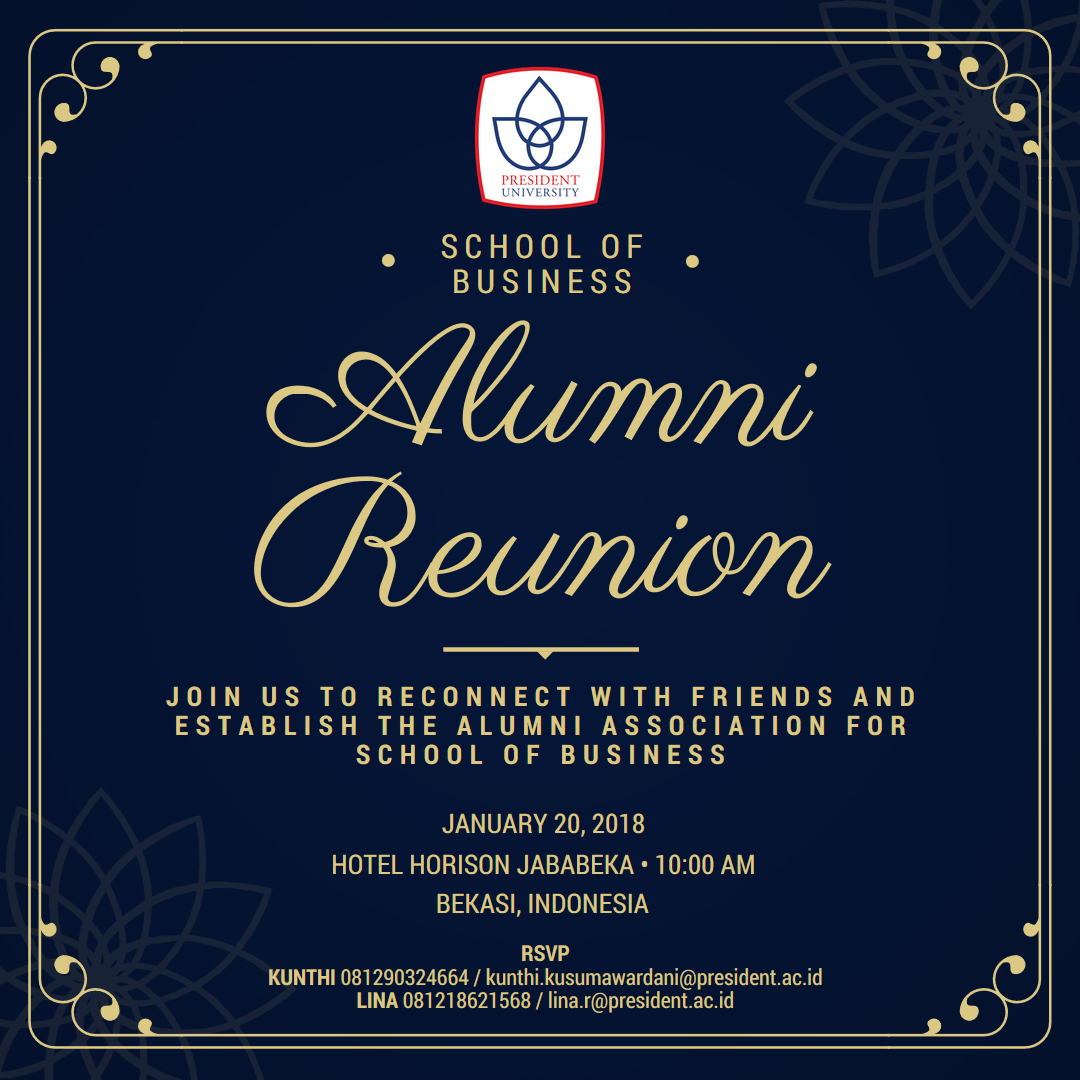 ---
January 20, 2018 (09:00) - January 20, 2018 (14:00)
Add to My Calendar
01/20/2018 09:00
01/20/2018 14:00
Asia/Jakarta
School of Business Alumni Reunion
Join us to reconnect with friends, and establish the alumni association for School of Business
Hotel Horison, Jababeka, Cikarang
Kunthi - 081290324664 - kunthi.kusumawardani@president.ac.id\r\nLina - 081218621568 - lina.r@president.ac.id
false
MM/DD/YYYY
---
Dear Distinguished School of Business Alumni,

We are delighted to extend a warm invitation to attend the first President University School of Business Alumni Reunion. The reunion will be a special and unique opportunity to meet up and catch up with old friends, build and expand your network with fellow alumni, and see how President University has changed for the better since you graduated. The event will be held on:
Date: Saturday, 20 January, 2018
Time: 10 AM - Onwards
Venue: Hotel Horison Jababeka, Cikarang
Dress: Smart Casual
Cost: Free of charge
Please fill out the enclosed questionnaire to make a RSVP, or even if you are unable to attend, so we can include the information about you in the reunion yearbook..

Cheers!
Click here for RSVP -> http://bit.ly/SOBreunion18.

PIC:
Kunthi - 081290324664 - kunthi.kusumawardani@president.ac.id
Lina - 081218621568 - lina.r@president.ac.id
Hotel Horison, Jababeka, Cikarang
Kunthi - 081290324664 - kunthi.kusumawardani@president.ac.id\r\nLina - 081218621568 - lina.r@president.ac.id
RSVP to this link: http://bit.ly/SOBreunion18
https://www.google.co.id/maps/place/Hotel+HORISON+Jababeka/@-6.2961357,107.1659523,17z/data=!3m1!4b1!4m5!3m4!1s0x2e699b3776a81ff1:0x8c0ee3a47dd66aaf!8m2!3d-6.296141!4d107.168141?hl=en